How to Get Turkey e-Visa
If you are planning your next trip and your destination is Turkey, you should make sure that you can enter the country without problems. Since March 2014, there was a visa on arrival system to enter Turkey. This is just a fine option by now. There is a more comfortable way; we call it Turkey e visa.
Before traveling, you must apply for a visa online. You then print it on a sheet of paper that you must present at the immigration together with your passport. The passport must be valid for at least 60 days from the last day of staying.
Why Should You Apply Turkey e-Visa Online?
The visa is a procedure that can sometimes be cumbersome. This way, the time it takes to complete the entry procedures when arriving at the airport is reduced to a quarter. The authorities will check the paper, put the stamp on your passport, and that's it. The visa on arrival continues to work, but it is more expensive, and it takes much longer to leave the airport. Therefore, we do not recommend it.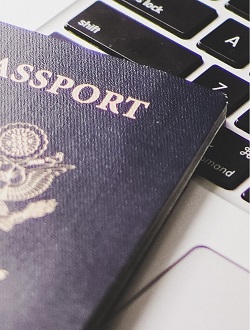 Turkey Visa FAQs

Below, we will answer some of the most frequently asked questions about the visa for Turkey.
1. Can people from all countries enter Turkey through this procedure?
They can not. Americans can use this service and the rest of the eligible nationalities that are registered on the Turkey e-visa system.
2. How long is the visa process, and when should I do it?
The government of Turkey recommends that the visa be done at least one week in advance. You have to choose a date to enter the country. From that day on, you have 180 days to make your trip, although you can only stay in Turkey for 30 or 90 days (dependent on the nationality).
3. Is there a multiple entry visa?
The visa is with multiple entries for certain nationalities only. You can contact us to verify this information.
4. What are the requirements to apply to Turkey's e-Visa?
Applying for an electronic visa is very simple. Before doing so, you will need to make sure you have a valid passport. Make sure it is not expiring since, if you have to renew your passport, your visa will no longer be valid.
To better summarize the requirements, we leave you the following list:
passport personal data scan (if applicable)
Credit/debit card or Paypal account for payment
Valid digital email
Remember that these requirements may vary according to nationality, as there are currently 60 countries that can apply for the electronic visa. After that, you should access our website and indicate your nationality. Once this is done, the system will take you to the next page. It is indicating its duration and whether multiple entries are possible with your nationality. Now, fill the rest of the form with some necessary information. There, you must put an arrival date, and you are allowed to use it on the days you have assigned from that date. After these steps, the web will guide you to a payment page. Once done, you will receive your visa in pdf in that same email. All you have to do is print it out and keep it with your passport.
5. Are There Age Restrictions?
Yes, there are some countries with age restrictions, which you can check here.
6. How Will I Receive My Electronic Visa?
We will send your electronic visa once processed (in the time you have required) to your email box. If it has not reached your inbox, check the spam box. Once you receive the visa, be sure to print it out so you can present it to the proper authorities at the Turkish airport. They will ask you for a printed copy of it.
7. How Long Does This Process Take?
As we have mentioned previously, you can have your visa in a minimum of 30 minutes or a maximum of 24 hours. The time varies depending on the urgency you have.
8. What Is The Validity Of The E-Visa For Turkey?
This visa allows you to stay in the country for a total of 30 or 90 days (according to nationality) and is valid for 180 days from arrival.
9. Should I Apply For An Electronic Visa For My Children?
Yes, you must to, as all foreign citizens, including minors, need a visa to travel to Turkey.
10. If I Am Alone In Transit Through Turkey, Do I Still Have To Apply For This Visa?
No, you don't have to, as long as you don't leave the transit zone.
11. Is the e-Visa refundable?
No. If you have obtained an e-Visa and have not entered Turkey, your payment will not be refunded.
12. If some data on the e-Visa does not match my passport, can I still enter Turkey?
No, you cannot. The Turkey Visa is electronically associated with the passport of a passenger. Therefore, you must enter Turkey with the same passport with which you apply for an electronic visa. Otherwise, your e-Visa will not be valid.
What Should You Keep In Mind Once You Get A Visa?
Well, I already have a visa. Can I safely go to Turkey? Yes, you can, but we are going to give you some essential advice that you will surely appreciate. First of all, we recommend that you take travel insurance. You can travel for years without having a single problem, but we guarantee that using it just once makes it worth paying for a few insurances. The currency of Turkey is the lira, so you will have to convert it in some way. The best option is always to withdraw money at local ATMs. You can also research the currency exchange of Turkey and the prices that you will find in Istanbul. As for accommodation, if you go to Istanbul, or you are going to start your visit there, it will be better to have it booked in advance. Istanbul is a modern and safe city to travel to. Therefore, you will find some comfortable hotels to stay quite easily.