Turkish Visa for Indian Citizens
Indian citizens can now apply for an e-Visa that will enable them to cross the Turkish border. To learn more about the Turkish visa system, why so many tourists visit Turkey, and some ideas for what souvenirs to bring home with you, keep on reading.
Turkey is the 6th most visited country in the world, attracting more than 50 million tourists each year. With its' historical and cultural richness, beautiful landscapes, magnificent beaches to relax on, and mountains to hike on.
Learn all about their incredible history and culture. Plan your journey carefully to explore all of the diverse, seven regions.

What to prepare before applying?
The application process is effortless and straightforward. Can be completed in less than 15 minutes from home. Any working device with a stable internet connection will do just fine. However, there are some requirements to meet beforehand.
Indian citizens are eligible for a single-entry visa that allows a 30-day stay in Turkey within 180 days. Please make sure that you will meet the following criteria before making your application:
a valid passport for at least six months ahead of the planned departure date
an active e-mail address to receive an e-Visa permit
Additionally, the following supporting documents need to be attached to your application:
a valid visa or residence permit from one of the following countries: USA, UK, Ireland, or any of the Schengen Area countries
proof of hotel reservation
a return ticket
evidence of sufficient funds for the trip ($50 for each day of the stay)
How to complete the application process?
If you have met all of the above-described Turkish visa requirements for Indian citizens, start making your visa application. To apply online for a single-entry visa, please follow these steps:
Click the green button 'Apply for e-Visa Online'. Start filling the application form with your data, passport details, e-mail address, and the purpose of your travel.
Attach the additional supporting documents.
Pay the handling visa fee using any convenient method of online payment.
Check your e-mail address. First, you will receive a confirmation number with which you can check the visa status during its' processing. Within the next 72 hours, you will obtain e-Visa permit on your e-mail box as well.
Lastly, please print out the PDF version of the e-Visa and bring it with you to the airport.
The processing time
E-Visa processing time may take up to 72 hours (3 business days). We recommend making your application in advance to avoid any issues during your travel. The average processing time using our services is just 19 hours!
Moreover, 99% of the applications filed are successfully approved, thanks to our team double-checking if all the information you provide is correct.

Turkish souvenirs
Turkey is famous for its; biodiversity, seven original regions, and vibrant history and culture. All of these factors are why there are so many incredible Turkish souvenirs to take home after your trip.
Here are a few examples of what can you find in Turkey:
Olive oil: you can find olive oil produced in the region of Ayvalık. Many olive trees grow in that region. Try buying from some local olive oil producers for an ecological and tasty product.
Pottery: you can buy numerous diverse clay pottery items in the region of Cappadocia. When Cappadocia became a tourist destination, pottery became a source of income for many. Try purchasing some exceptional clay pottery items and try making some yourself!
Traditional Carpets: colourful carpets have been a unique feature of Turkish culture. You can buy such a rug for your home, but don't rush your decision and make your research to make sure you buy an original, handmade carpet.
Nazar Boncugu: or known as the 'evil eye' that is a talisman that will ward off the bad luck for you. It can be put in a keychain, or a bracelet and be with you everywhere. Try putting it in a car, home, or your office.
Ceramics: colourful, hand-painted ceramics are most definitely one of the unique souvenirs that are worth taking home with you. These are available at the many shops or markets in tourists destinations.
Foods: Or maybe you've tried the Turkish coffee and tea on your trip and wish to take it home with you. Buy some at the local store and feel free to make it at home to bring back memories. There are other food options available to purchase, take a look around on your trip.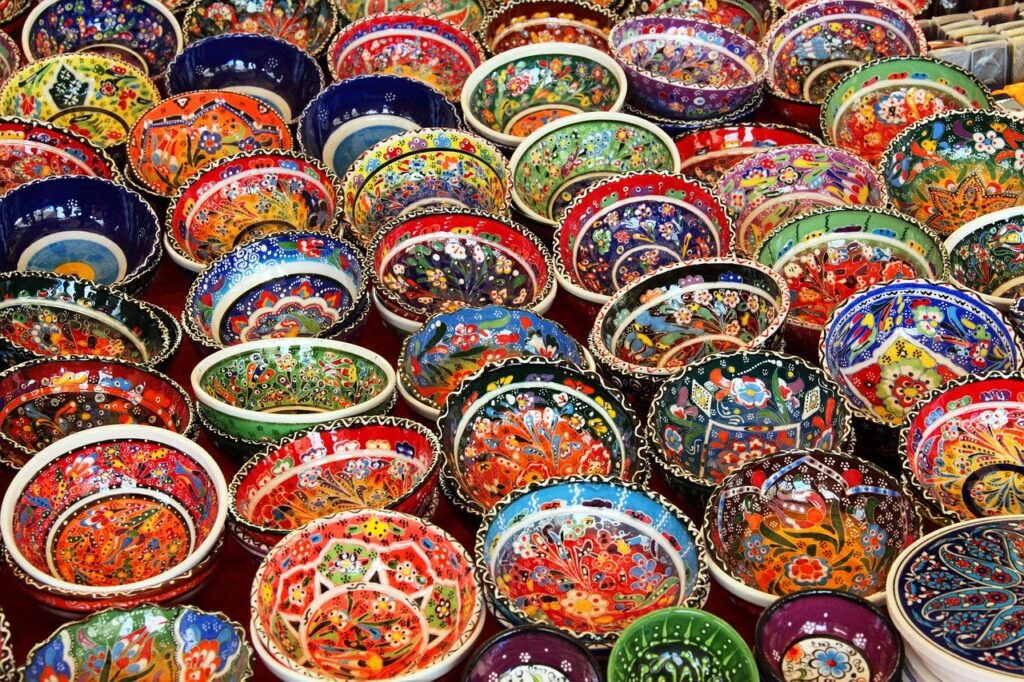 Apply for an electronic visa to Turkey and make your dream journey come true! If you have a valid Indian passport, you can enter Turkey for 30 days with a Turkey visa. Any Indian citizen that wishes to obtain a permit to Turkey can apply online by simply filling in the application form and paying the visa fee.
E-Visa application completion will take you less than 15 minutes. Should you have any questions, do not hesitate to contact our support team.