Visa to Turkey for Netherlands Citizens
All travellers that wish to visit Turkey coming from the Netherlands will be happy to read this article. You can learn all about the hectic Turkish visa system, the requirements for applying, and a list of foods that you need to try when visiting Turkey!
Turkish visa system may be confusing because some countries can enter visa-free, other are eligible for an e-Visa to Turkey. There are different requirements for each country and various support documents to attach for each nationality.
Fortunately, the Netherlands Citizens can enter Turkey visa-free when they're travelling for a maximum of 90 days within the 180-day period.
If you need more information about the requirements or a detailed list of countries eligible for certain visa types, please visit https://visa-for-turkey.com/do-you-need-eta

E-Visa application to Turkey
Many countries are eligible for an e-Visa when travelling to Turkey. It is easily obtainable, and the application process can be completed in less than 15 minutes from home. Any working device with a stable internet connection will do just fine.
The basic requirements to apply are elementary:
a valid passport: passport validity has to exceed at least six months ahead of the intended departure date.
an active e-mail address: onto which e-Visa and its' confirmation number is sent.
Some countries are required to attach additional support documents to their application. This can be proof of the hotel reservation, a returning ticket, funds for each day of the stay, or a valid visa from USA, UK, Ireland, or any of the Schengen Area countries.
E-Visa Types
There are two main e-Visa to Turkey types:
A multiple-entry visa that allows a 90 day stay in a 180-day validity period. 24 countries are eligible for this type of e-Visa; the majority of them does not need to attach any additional documents.
A single-entry visa that allows a 30 day stay in a 180-day validity period. 70 countries are eligible for this e-Visa type. Here, each country has its' own requirements to meet.
When completing the application process, provide your data, passport details, the purpose of your travel, and your e-mail address. Pay the handling charges using an online payment method of your choice. Lastly, check your e-mail box, within 72 hours, e-Visa will arrive at your e-mail address.
The processing time may take up to 72 hours. However, the average processing time when using our services is just 19 hours! Moreover, the rate of successful applications is at 99%.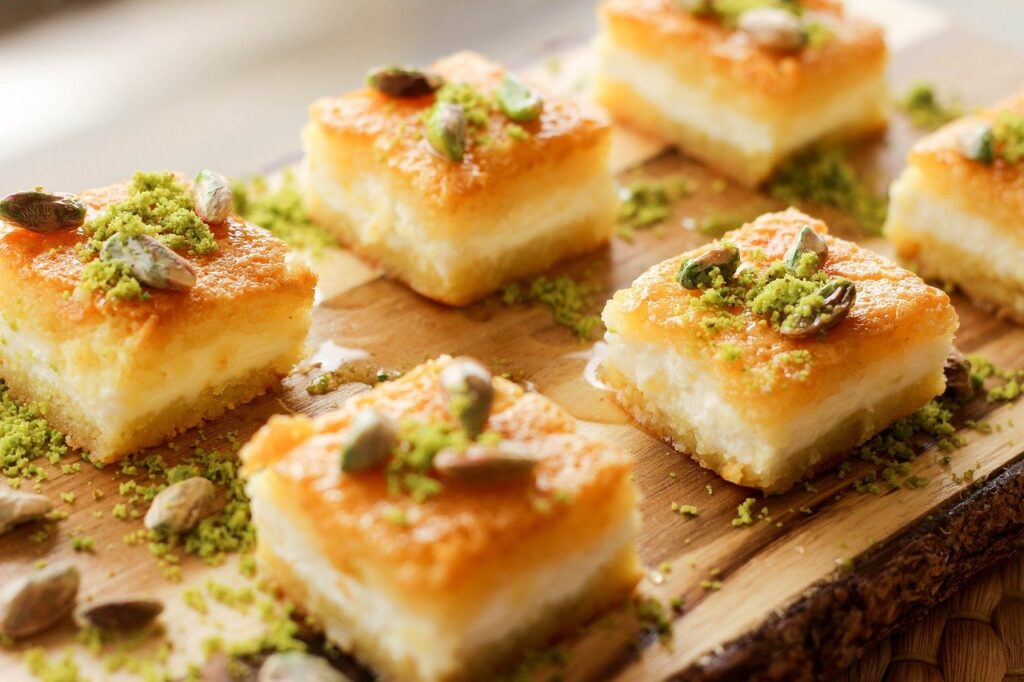 5 dishes you need to try while visiting Turkey
Now that you are familiar with every necessary piece of information about travelling to Turkey with a visa let's move on to a list of foods that you should try when visiting.
Of course, the Turkish culture has many more scrumptious dishes in their inventory; however, we are going to look at seven examples that can indeed stimulate your taste buds!
Pottery Kebab (Testi Kebap): this dish will for sure bring some excitement with it! Pottery kebab is a dish made with meats and vegetables cooked in the oven in a sealed clay pot. The waiter will bring the clay pot to your table and break the top off to reveal the dish hidden inside. That is a one of a kind Turkey experience.
Apple Tea: served all around Turkey in a tulip-shaped glass. Can be consumed both hot and cold. It is a regular black tea with an apple flavouring added. Sounds simple, yet it is a clear example of fantastic Turkish food.
Baklava: a sweet pastry that is made out of a fragile, thin dough called 'filo'. It is filled with chopped nuts and is held together by adding syrup, honey or frosting to it. You can try to make your baklava, but will it taste the same as the one in Turkey?
Simit: this is a typical street-food snack. However, the Simit bread snack differs in taste across the different regions of Turkey. It is shaped circular and topped with sesame or sunflower seeds. The history of this snack is as rich as its' taste; the first Simit pieces are thought to be produced in Istanbul already in 1525!
Etli Ekmek: these words mean 'bread with meat' in Turkish. It is a flatbread with meat and other toppings on it. Can be purchased in a Turkish bakery. This snack is considered to be pizza-like.
This is just a snippet of what you can taste in Turkey! Many colourful, tasteful dishes are waiting for you to try them. Try visiting all of the seven Turkey regions and discovering their mysteries.