Visa to Turkey for Lithuania Citizens
Turkey is a beautiful country full of various attractions, landscapes, regions, ancient sites to visit. If you're planning on a trip to Turkey from Lithuania, you need to prepare for a 10-hour flight! But let me show you why it will all be worth it!
Turkey, with its diverse climate and impressive biodiversity, has so much to offer to travellers visiting its lands. Each of the seven Turkish regions has various attractions, landscapes, history, culture, architecture to offer.
This article will not only try to convince you to explore Turkey as much as you can, but also will provide some helpful information about the Turkish visa system and the requirements for Lithuanian citizens to meet.

Four best places to visit in Turkey
The fantastic Turkish places and attractions made it extremely difficult to pick only 5 of the best places to visit. However, starting with the must-see ones is crucial. If you have enough time, you can try visiting other areas as well.
Lithuanian tourists should probably consider starting their sightseeing on the next day of the stay, as the flight will most likely drain all of the energy off of you. On the first day, try some of the unique Turkish cuisine and local produce. Start slowly to get used to the new tastes and flavours of Turkey.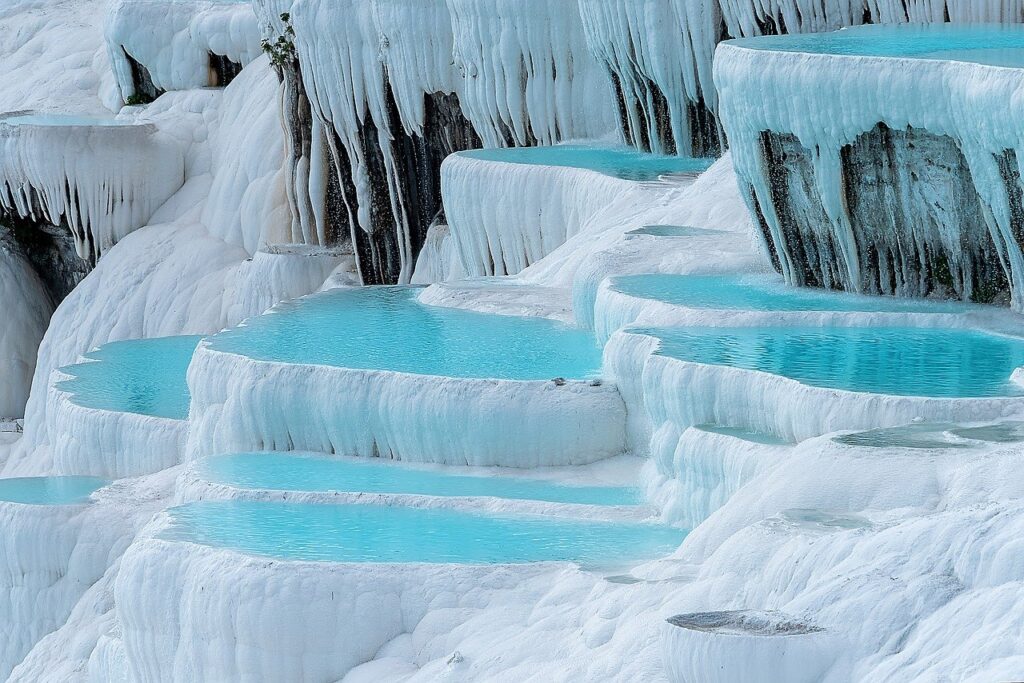 Pamukkale: located in the southwestern parts of Turkey, in Denizli. The word Pammukale in Turkish means the 'cotton castle'. Its terraces are made out of travertine, which is a kind of limestone usually deposited by mineral springs, especially the hot springs. It can be of white, tan, or cream colour.
Due to the pollution of the site by the tourists, they are not allowed to walk on them, but the impressive views are worth it nonetheless. Visiting these hot springs which temperatures range from 35 to 100 degrees Celsius is a must. This is a World's Heritage Site; you can see the museum located near the Pamukkale and learn all about the ancient sites of the surrounding cities as well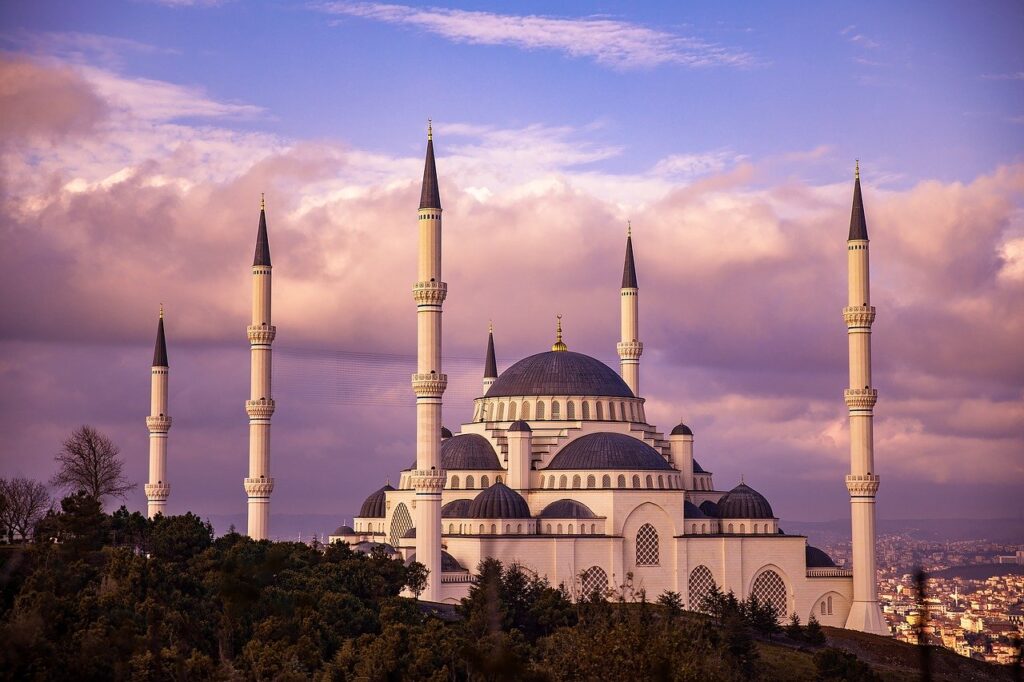 Hagia Sophia: the Hagia Sophia Grand Mosque, built in 537! It was the largest Christian church of the eastern Roman Empire. It was converted into a mosque in 1453 following the Fall of Constantinople. It functioned as a museum, but since 2020 it is again a mosque. It was one of the most visited attractions in Turkey.
However, now that it functions as a mosque, it may not be as accessible. Nevertheless, its imposing architecture structure can still attract many tourists to admire it as a building, and get to know its vibrant history.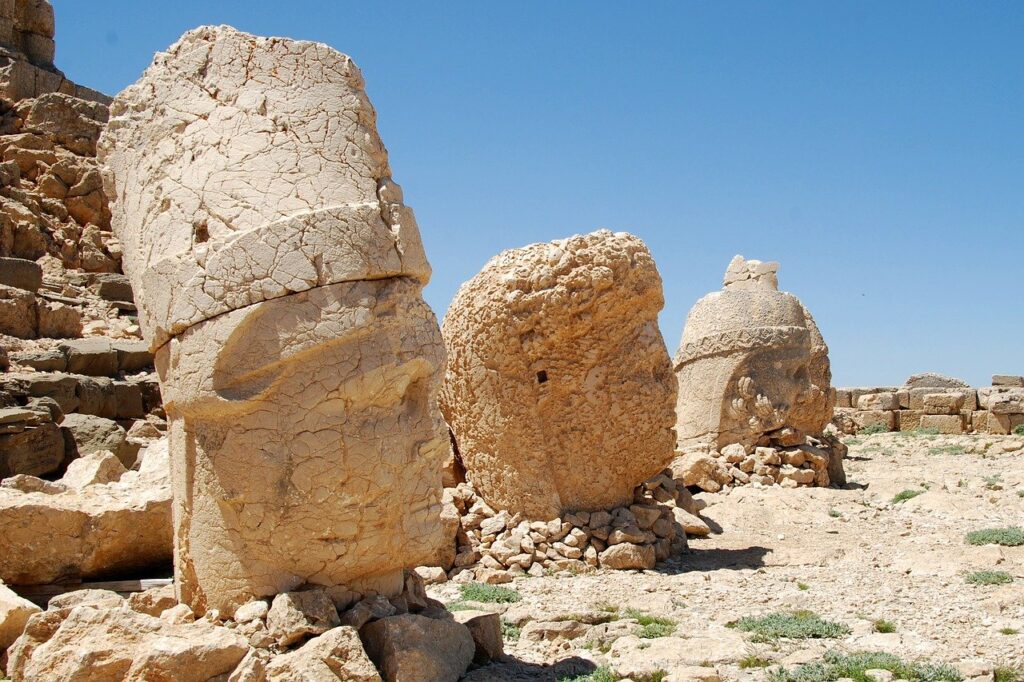 Mount Nemrut: the mountain is located in the southeastern parts of Turkey, and its height is more than 2 thousand meters. But, this mountain is not necessarily famous for its peak. It's the statues that make this place unique. The history of this place makes it one of the most interesting ones out there. In 62 BCE, the king Antiochus I Theos of Commagene built the statues 8-9 meters high.
The statues represented himself, two lions, eagles, and various Iranian, Armenian, and Greek gods. The figures have experienced some damage to them. Thanks to the iconoclasm. That is a belief that icons, images, or monuments built for religious or politics purposes need to be destroyed. The heads of the statues are detached from their bodies and lie around the site. Their noses also suffered some damage.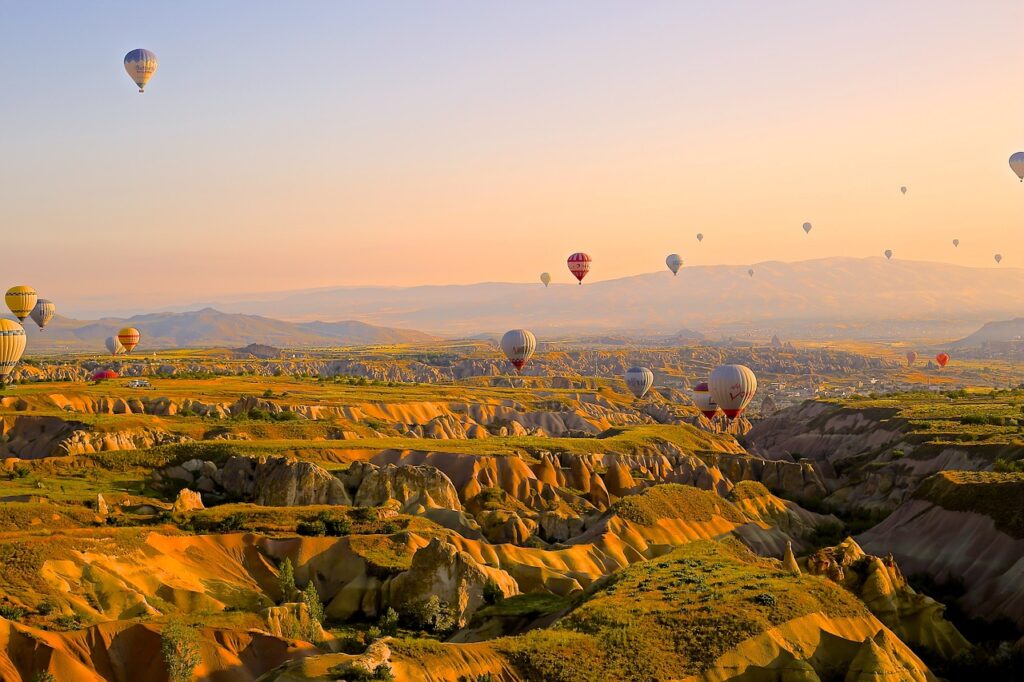 Cappadocia: this region of Turkey is probably making you think of hot-air ballooning above the area. However, this is not all there is to discover in Cappadocia. The most popular tourist destinations in Cappadocia are spread across four cities: Nevsehir, Kayseri, Aksaray and Nigde.
Göreme offers the hot-air ballooning; the price ranges between $140 and $250 per person. Book your flight early and do not underestimate the distance between different regions of Turkey. If you are staying in Istanbul, you will need to take an hour-long flight to get to Cappadocia. There are many different geological, historical, and cultural values.
Do Lithuanian citizens need a visa to travel to Turkey?
Lithuanian citizens can visit Turkey visa-free for tourist or business purposes. Their stay can be visa-free when they're travelling up to 90 days. As they are a country from the European Union, they do not need to handle a visa permit for a stay of 90 days in a 180-day period.
E-Visa to Turkey for Lithuanian citizens
However, if you wish to travel more, try applying for an e-Visa to Turkey using our services. We provide the highest-quality visa experience out there. You can complete the application form in just 15 minutes from home, using any working device with an internet connection.
All you need to apply is a valid passport for at least six months ahead of the planned departure date and an active e-mail address.
Complete the form by providing your personal information, passport details, e-mail address, and the purpose of your travel. Pay the handling visa charges using a method of online payment of your choice. Then, check your e-mail address. Within 72 hours maximum, your e-Visa permit is going to arrive at your e-mail box.
Should you have any questions about travelling to Turkey with an e-Visa or regarding the process, do not hesitate to contact our support team that is available to you throughout the whole process.